MADDIE'S Fry Seasoning Mixes
MADDIE'S mixtures are an excellent blend of fine herbs, pure spices and velvety smooth flour. Our Seafood mixture includes a course blend of flour and fresh corn meal. These specialty products are pre-seasoned to perfection to simplify your cooking experience without sacrificing taste. These items are a few of the wide range of products we are slowly introducing to our customers. Make every meal a Blast with MADDIE'S!
MADDIE'S Gluten Free Chicken Fry Mixture is a perfect rice flour blend for the gluten free! This product provides the same explosive flavor as our original Chicken Fry Mixture. Maddie belives that a gluten free diet should be tasty and enjoyable. Let Maddie's blow your mind with astonishing FLAVOR!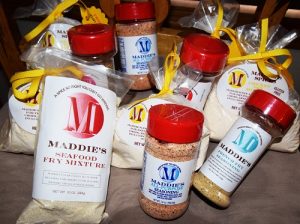 MADDIE'S Chicken Fry Mixture is a great tool for all your southern seasoning needs! Great for frying chicken, pork chops, beef and exotic meats. Become the star of the party with amazing onion rings, fried mushrooms and other vegetables.
MADDIE'S Seafood Fry Mixture is used to season and fry seafood. Fish, shrimp, scallop, oysters, clams, calimari and all other seafood. Just follow the easy to use directions, to create wonderfully delicious southern style dishes.
Spices So Right You Can't Go Wrong!
Thank you, for taking the time to visit with us!